FRUIT HARVEST
Early october I harvested some fruit from my fruit trees that I had planted 2 years ago at a very young stage. I had planted them with my grandchildren in mind. I did so in the hope that one day, in a far away future, they would be able to pick the apples and pears from it.
I planted grapes too and different berry bushes. Till my amazement I could harvest together with my son and grandson a few apples from the appletree the same year! It was nothing but a miracle. Not knowing that another year later, this year, I was able to harvest an apple for my 2nd grandchild as well! That is the apple I'm holding here. What a blessing to have a wish come true so fast twice!
Family Estate
Another wish is to have the fruit trees replanted on a hectare of land, which will be then my 'kin-domain'. In Dutch language the word for kin is family. For us, family is both regarded as a so called 'household family' (gezin), and as the extended version of everything related to it, such as relatives (verwanten en aanverwanten), and also our ancestors (voorouders en stamboom) and future generations.
But kin in Dutch means chin. Thus we call such hectare of land a 'family domain', or family 'estate' as I prefer to call it. (In Dutch: familie 'landgoed' = land + good). Because it is for my children and grandchildren to live happily on such land, when them and God willing. Who knows, there might be even more generations to come.
Family Tree
At this point I should also inform you about the family tree. In English language a family tree refers to pedigree, including all successors or descendants of the family down- and up line. Again I encoutered a translation thingy. Because in relation to the kin domains or family estates, it also has the meaning of a real tree, a tree of a family, so to speak. Such tree is specially planted by and for the family on the estate in honor of all generations of the family who have lived there and will come there.
One Day
But in Dutch language, a family tree hasn't the meaning of pedigree. For the word pedigree we use 'stam-boom'. 'Stam' refers to the trunk of a tree, to the stem of a plant and to the word tribe. And 'boom' (which we pronounce differently) is tree. Thus family tree is a new notion for us, also initially translated from the Russian Anastasia Ringing Cedar series. Hence for us (Dutch) initially it only referred to a real tree on the plot. Anyhow, I figuered it out just recently. And for sure, I would love to have such tree planted one day!
Bridging The Gap
As I'm also very enthousiastic about the idea of the Earth Hectare Grid, I would love to plant another 'family tree' especially dedicated to humanity. I do not know yet if and how that will come to fruition though.
But although this article is written for my children and grandchildren in particular, I would love to share it with the world too. My grand- & children and The Earth Hectare Grid made me think so. It is because my successors have quite an extended family worldwide. But, it is also for the world at large to remember who we are as humanity.
The Painting
The picture you see above this article, is me with an apple in front of a painting in my livingroom. The painting has been there for almost two decades. I made the picture the same day that I had harvested the apple together with some pears. All of a sudden I saw a striking resemblance with the apples and pears on the painting. They looked exactly the same! And this brought back memories as well. I herited this painting from my grandmother, who had it in her livingroom for many years also.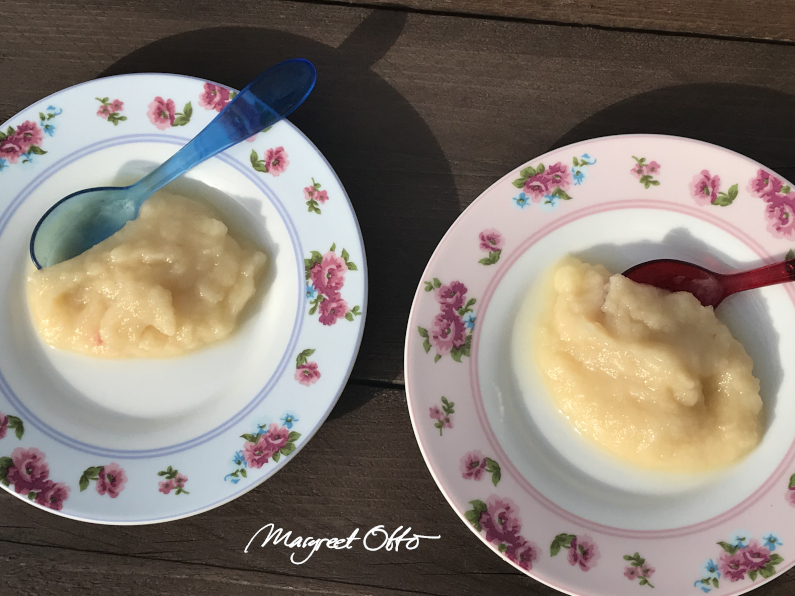 Apple Sauce
Two weeks after I harvested the apple in particular, I made apple sauce from it at my son's house. Then my son fed his son and daughter the apple sause, and I made a picture of them eating it. For future reference, heheheh.
For your information: my granddaughter at the age of 7 months ate the whole plate, and my 2 ½ year old grandson fed part of it to a great dinosaurus in some sort of teddybear style, a toy almost as tall as himself. The innocent look in my granddaughters and grandson's eyes, oh my! And what a cutiepies both my grandchildren are. It was all good.
Memories
Back to the painting. I vividly remember how I as a child would look at the painting, and actually like it a lot. It hang above the sofa, and I remember a niche in the corner of the wall which was colored a bright orange. There were also aimed a few nice spots on it, I'm not sure if there was another painting in it, or if it had been removed later.
Obviously I remember this because it was quite unusual to have such colors in the house back in the days. But my grandma's boyfriend was an interior architect and loved bold color combinations and modern design. In fact, he was way ahead of his time!
The Painter
My grandma told me how her second husband made the painting. They had very little budget to do so (a few years after the 2nd worldwar there was still a lot of austerity). So he portrayed the fruit that was with them on the fruit bowl. And he also chose the pink and purple flowers my grandma used to have in her window sills for many years.
Last Dollars
They spend literally their last dollars* on the paint and the canvas. (*Dutch valuta back then: 'Guldens', now Euros). They had no money left for a fancy frame, which still has a gray base paint today. (I hope one day to put it in a beautiful mother-of-pearl frame, which would suit the painting well). My 2nd granddad made more paintings of which a few are still in the family, and a bit of poetry. But I wasn't very close to him, because we lived two hours drive away and in that episode I didn't visit them often.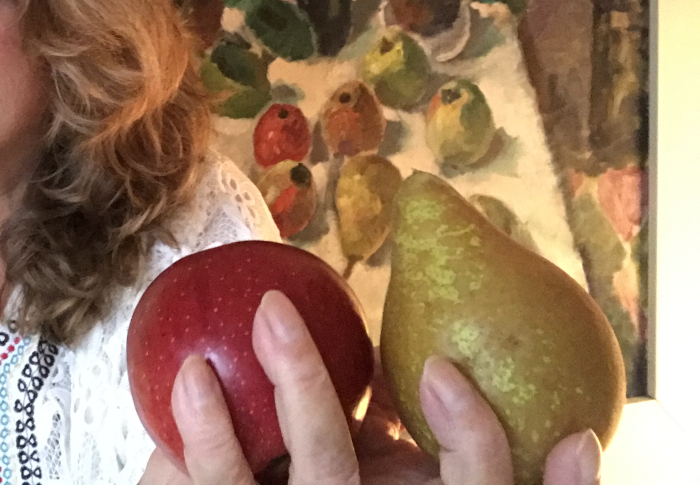 More Details
If the bottle on the painting is filled with water or wine, I can't remember, although I remember asking my grandma about it. But the curtains behind them he just made them up, she told me. And interestingly, the violets flowers depicted were of a different quality compared to how we see them today. I think they were called African violets and had thick leaves with a velvet texture. She took care of them for many years. Watered them every day. My grandma loved flowers a lot, just like I do.
And if their apples and pears tasted as good? I think yes. Many of those were still organically grown on the country side in those times. But mine were homegrown from my yard and tasted absolutely fabulous!
Loss
My grandma wasn't actually very fortunate in life, because she lost her first husband during 2nd worldwar while he was 28 years young. He was assassinated by German soldiers at the time. They arrested him I think two weeks after my mum was born. OMG, at least he has kept her in his arms! But after his arrest, they put him in prison for one year (in Scheveningen) and then shot him somehwere in a national park and forest (called the 'Veluwe').
Resistance
It was because he and also my grandma were in the resistance. A huge movement against the german invasion and occupation. Well, we know now what happend to millions of people in this war! And as we all know, at the time, nobody knew it was going to be so bad.
By the way, my grandma never ever spoke one single bad word about the Germans. I asked her about that. 'How come you're never upset with them?'. She told me there were many good ones too.
Scenery
My mum was born in Schiedam (the Netherlands) while they were bombarding the nearby city Rotterdam in 1941. My grandma told me that was quite an experience, going through labor while she heard the extreme loud noise of the bombs and missiles being dropped on the city which was close to were they lived. Just to depict some of the scenery here.
Carwreck
My grandma's 2nd husband (the painter) had a carwreck. He accidentally went up the highway in the wrong direction. He died on the spot or in hospital shortly after. He had negative memories of the war, and had difficulty coping with them. But after the war he had a good position in a company as a cardealer.
Challenges
My grandma told me she cried for two years after his accident non stop, and smoked two packages of cigarettes a day, lighting one cigarette in the living room, while another cigarette was still in the kitchen burning on an ashtray.
Thankfully she quit smoking (from one day to the other) after she realised it wasn't helping her much. And she no longer wanted to feel pity for herself. (Quite a challenge though).
My grandma's third partner in life (the architect) to which she wasn't married, died due to cancer. It was kind of tragic to see him suffer, but also to watch her going through all this sadness again.
Sweetest Grandma Ever
Nevertheless, despite it all, my grandma was the most sweet and loving person on the planet. She would help everybody. For instance, as a single mum of her son (my uncle) and her daughter (my mother), she secretly housed three Jewish people in the war.
I remember her also being very hospitable whenever she received guests for coffee or meals. Her last name was called 'De Goede' and this means The Good One. And she truly was. I've never met anyone as sweet as her for the rest of my life. Or it should be my mum.
My Grandma's Answer
One day, when I asked my grandma about it, she told me how she had handled everything. She said she was grateful to have known LOVE. She watched my mother struggle with new relationships after her divorce (I was 4 years old at the divorce). After this we had moved several times, sometimes because of a new relationship, or the ending of it. However, since I always witnessed the demise, I felt so sorry for my mother. I decided to consult my grandmother. She then answered for encouragement: "Margreet, it is better to have been loved and lost, than to have never been loved at all."
Recognition
With this my grandmother acknowledged that my mother was not loved as much as she deserved. Because at the same time, my grandmother recognized how she was truly loved herself by her three partners in life, although she had tragically lost them all. And I felt very touched by her acknowlegement.
As a child, not having witnessed a good relationship of my parents, and having lived with my mum through other failing relationships (my eldest brother and I lived with her), I felt encouraged by it. Thankfully my mum and dad found their true partners later in life. My dad a year after their divorce -I'm blessed with a great 2nd mom and three halfbrothers as well-, and my mum later on at the age of 70. I now have a new stephdad as well.
Strong Women
I'm sharing this with you also because I'm very proud of the women in my familiy. They have all played a great but yet unseen role in life's history. A role of lovers, heroines, mothers, grandmothers and great-grandmothers. They loved and were loved, suffered, and sacrificed, but they gave everything to their men, children and grandchildren.
Great Spirits
So yes my dear son, daughter in law (to be), and grandchildren, please remember what my grandma told me, because her great spirit has lived in our family and you are a descendant from her, and from your great grandfather and great great grandfather!
Yes, lets remember my courageous granddad as well, a grandfather I have never known myself (but surely missed), who was the father my mother also never knew (except for the first 2 weeks of her life).
By the way, later on in life, a (small) street was named after my grandfather, for being a hero and victim of 2nd worldwar. If it had been up to me, I would have chosen a large boulevard for them, both for my grandfather and grandmother. On the other hand, many heroes have died unprecedented. Thus to be honored doesn't say everything. Great spirits never get lost I guess.
I only met my paternal grandparents a few times. The grandfather and grandmother on my father's side saw me as a baby, but after that I hardly had any contact with them. My grandfather died relatively young and I saw my grandmother again at a later age. We were happy to meet.
My Mum's Names
Oh and yes, because I have a strong bond with my mother, I also want to tell my descendants that she is named after her three grandmothers.
Her first name is 'Bieuwkjen'. This is an old Dutch name. It stems from a language area of a northern part in Holland called 'Drenthe', where my grandma was born on the countryside.
And my mother inherited that name from her mother's mother, who had inherited it from her mother and grandmother too! So the great-great-grandmother of my grandchildren also had that name! However, we called my mother by her callsign throughout her life.
The husband of that great-grandmother or the great great one, I can't remember which one, was a peat farmer. He split through the Drenthe waters on a low barge with loads of peat for fuel. He moved it around with a long pole stick (my grandmother once told me).
And then my mum's middle name. It belongs to her father's mother. And unfortunately that mother died at a young age (even before my grandfather was assasinated at the age of 28). Her husband then remarried and that's how my mother got her third name. This name belonged to her father's stepmother (so my grandfather's stepmother). By the way, my grandmother also lost a parent at a very young age. But her mother remarried with a neighbouring farmer and my grandma had many siblings.
Anyway, maybe I will go on with all those names later in bookform, also about my own, because there is much more to tell about them and I also have lots more to share. But for now, it is enough. Otherwise you will still be reading here tomorrow. In any case, there are enough offspring on both sides of te family from my side.
My Answer
That's why I'm passing it on to you now. Also based on my own experiences. LOVE is the answer. It always has been and always will be. ALWAYS. Please don't ever forget it.
To have loved and to be loved, to hold children and grandchildren in your arms, these are the most precious gifts there is.
Lover, Beloved, Mother and Grandma, Margreet.
I LOOOOOVVVVVEEEEEE YOU!